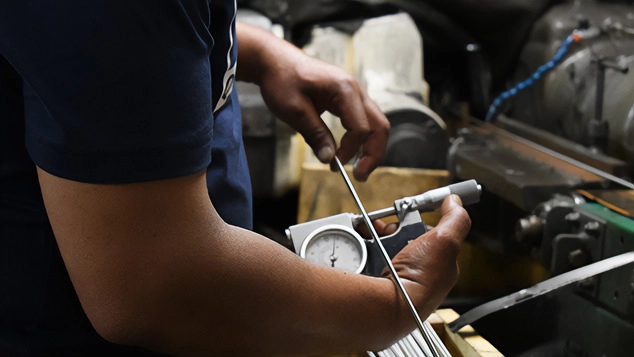 Centerless grinding was the first service offering that M&M Quality Grinding provided when we started doing business, over 40 years ago. Since then, we have grown to be a leader in the manufacturing of high-quality precision ground bar stock for machine shops and service centers, with clients around the globe.
Centerless ground bar stock from M&M Quality Grinding offers reliable and stable tolerances, material composition and delivery times. For machine shops and OEMs with CNC turning, CNC Swiss, and screw machine operations, running your machines with precision ground bar stock will increase efficiencies dramatically by reducing set-up time, reducing scrap and allow you to run "lights out" while maintaining accurate dimensions, finishes and tolerances.
M&M Quality Grinding's facility has over 30 centerless grinding machines, with the ability to grind bars from 3' long up to 24' long, and OD's from .032" to 7".  Materials that we grind include:  Stainless steel round bars and tube stock, carbon steel round bars and tube stock, alloy steel round bars and tube stock, tool steel round bar stock, aluminum round bars and tube stock, thermoplastic round bars (up to ½" OD) and a variety of specialty nickel bar stock (Inconel and Monel in particular).
We can centerless grind both round bar stock and round tube stock outside diameters (OD grinding).
M&M Quality Grinding Centerless Grinding Capabilities
---
| Materials | Surface Finish | Round Bar and Tube Stock Lengths | Diameters | Tolerances |
| --- | --- | --- | --- | --- |
| Stainless Steel | to 6RMS | 3' (914.4mm) to 24' (7315.2mm) | .032" (.8128mm) to 7" (177.8mm) | +/- .0001" |
| Carbon Steel | to 6RMS | 3' (914.4mm) to 24' (7315.2mm) | .032" (.8128mm) to 7" (177.8mm) | +/- .0001" |
| Alloy Steel | to 6RMS | 3' (914.4mm) to 24' (7315.2mm) | .032" (.8128mm) to 7" (177.8mm) | +/- .0001" |
| Aluminum | to 6RMS | 3' (914.4mm) to 24' (7315.2mm) | .032" (.8128mm) to 7" (177.8mm) | +/- .0001" |
| Brass | to 6RMS | 3' (914.4mm) to 24' (7315.2mm) | .032" (.8128mm) to 7" (177.8mm) | +/- .0001" |
| Copper | to 6RMS | 3' (914.4mm) to 24' (7315.2mm) | .032" (.8128mm) to 7" (177.8mm) | +/- .0001" |
| Bronze | to 6RMS | 3' (914.4mm) to 24' (7315.2mm) | .032" (.8128mm) to 7" (177.8mm) | +/- .0001" |
| Specialty Alloys | to 6RMS | 3' (914.4mm) to 24' (7315.2mm) | .032" (.8128mm) to 7" (177.8mm) | +/- .0001" |
| Thermoplastics | to 6RMS | 3' (914.4mm) to 24' (7315.2mm) | .032" (.8128mm) to 7" (177.8mm) | +/- .0001" |