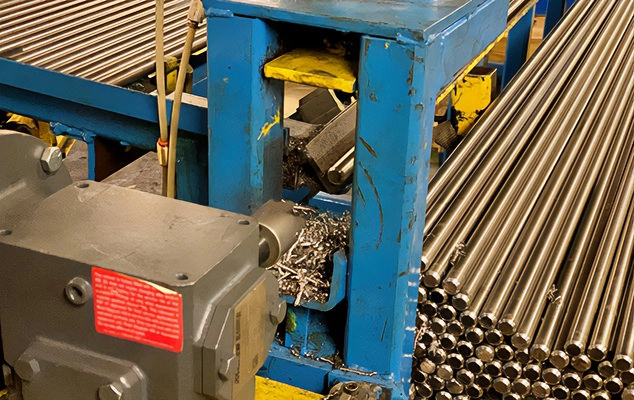 M&M Quality Grinding's facility includes bar chamfering machines for bars from 3' long up to 24' long, and OD's from 0.032" to 7". Bar stock materials that we can chamfer include:  Stainless steel, carbon steel, alloy steel, tool steel, aluminum, and a variety of specialty nickel bar stock (Inconel and Monel in particular).
Chamfered ends on bar stock ensure your bar feeders run quickly and efficiently, reducing down-time caused by feeder or CNC machine faults. Shops running chamfered bar stock can run "lights out" as well as see increased efficiencies on their day shifts.
M&M Grinding has experience with a wide range of bar chamfering requirements from customers running many different types of equipment. This includes various chamfer dimensions, burr removal and smoothing to create optimum bar ends for production runs.
M&M Quality Grinding Bar Chamfering Capabilities
---
| Materials | Round Bar and Tube Stock Lengths | Diameters |
| --- | --- | --- |
| Stainless Steel | 3' (914.4mm) to 24' (7315.2mm) | .032" (.8128mm) to 7" (177.8mm) |
| Carbon Steel | 3' (914.4mm) to 24' (7315.2mm) | .032" (.8128mm) to 7" (177.8mm) |
| Alloy Steel | 3' (914.4mm) to 24' (7315.2mm) | .032" (.8128mm) to 7" (177.8mm) |
| Aluminum | 3' (914.4mm) to 24' (7315.2mm) | .032" (.8128mm) to 7" (177.8mm) |
| Brass | 3' (914.4mm) to 24' (7315.2mm) | .032" (.8128mm) to 7" (177.8mm) |
| Copper | 3' (914.4mm) to 24' (7315.2mm) | .032" (.8128mm) to 7" (177.8mm) |
| Bronze | 3' (914.4mm) to 24' (7315.2mm) | .032" (.8128mm) to 7" (177.8mm) |
| Nickel Alloys | 3' (914.4mm) to 24' (7315.2mm) | .032" (.8128mm) to 7" (177.8mm) |
| Thermoplastics | 3' (914.4mm) to 24' (7315.2mm) | .032" (.8128mm) to 7" (177.8mm) |