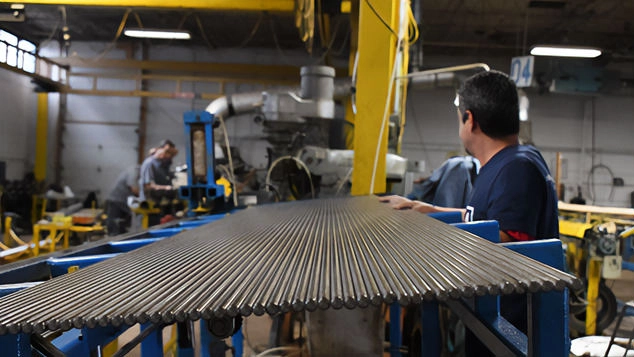 For machine shops looking to manufacture tight tolerance components for clients in the aerospace, medical, automotive, and general industrial market sectors, ensuring that your bar stock is straight will prevent scrap, downtime, and headaches.  M&M Quality Grinding provides bar straightening services that will ensure your team does not have to deal with the issues caused by warping during heat treatment, damage during shipment, or even the frustrating "out-of-round" issues seen in shipments from the mill or distributor.
M&M Quality Grinding's facility has bar straightening rotary equipment for bars from 3' long up to 24' long, and OD's from .032" to 7".  Bar stock materials that we can straighten include:  Stainless steel, carbon steel, alloy steel, tool steel, aluminum, and a variety of nickel bar alloys (Inconel and Monel in particular).
We can straighten both round bar stock and round tube stock.
M&M Quality Grinding Bar Straightening Capabilities
---
| Materials | Round Bar and Tube Stock Lengths | Diameters | Tolerances |
| --- | --- | --- | --- |
| Stainless Steel | 3' (914.4mm) to 24' (7315.2mm) | .032" (.8128mm) to 7" (177.8mm) | .004"/ft TIR over 12" |
| Carbon Steel | 3' (914.4mm) to 24' (7315.2mm) | .032" (.8128mm) to 7" (177.8mm) | .004"/ft TIR over 12" |
| Alloy Steel | 3' (914.4mm) to 24' (7315.2mm) | .032" (.8128mm) to 7" (177.8mm) | .004"/ft TIR over 12" |
| Aluminum | 3' (914.4mm) to 24' (7315.2mm) | .032" (.8128mm) to 7" (177.8mm) | .004"/ft TIR over 12" |
| Brass | 3' (914.4mm) to 24' (7315.2mm) | .032" (.8128mm) to 7" (177.8mm) | .004"/ft TIR over 12" |
| Copper | 3' (914.4mm) to 24' (7315.2mm) | .032" (.8128mm) to 7" (177.8mm) | .004"/ft TIR over 12" |
| Bronze | 3' (914.4mm) to 24' (7315.2mm) | .032" (.8128mm) to 7" (177.8mm) | .004"/ft TIR over 12" |
| Specialty Alloys | 3' (914.4mm) to 24' (7315.2mm) | .032" (.8128mm) to 7" (177.8mm) | .004"/ft TIR over 12" |