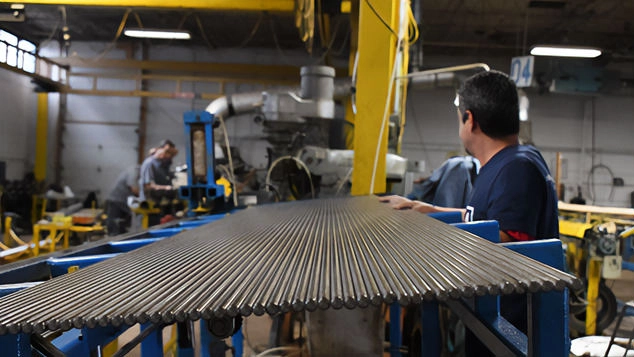 M&M Quality Grinding provides bar straightening services that will help prevent issues caused by warping during heat treatment, damage during shipment, or even the frustrating "out-of-round" issues seen in shipments from the mill or distributor. Straight bar stock remains an essential component for aerospace, medical, automotive, and other industrial sectors.
Our facility has bar-straightening rotary equipment for bars from 3′ to 24′ long, and ODs from 0.32″ to 7″. Available materials include stainless steel, carbon steel, alloy steel, tool steel, aluminum, and a variety of nickel bar alloys (Inconel and Monel in particular).
We can straighten both round bar stock and round tube stock.
M&M Quality Grinding Bar Straightening Capabilities
---
| Materials | Round Bar and Tube Stock Lengths | Diameters | Tolerances |
| --- | --- | --- | --- |
| Stainless Steel | 3' (914.4mm) to 24' (7315.2mm) | .032" (.8128mm) to 7" (177.8mm) | .004"/ft TIR over 12" |
| Carbon Steel | 3' (914.4mm) to 24' (7315.2mm) | .032" (.8128mm) to 7" (177.8mm) | .004"/ft TIR over 12" |
| Alloy Steel | 3' (914.4mm) to 24' (7315.2mm) | .032" (.8128mm) to 7" (177.8mm) | .004"/ft TIR over 12" |
| Aluminum | 3' (914.4mm) to 24' (7315.2mm) | .032" (.8128mm) to 7" (177.8mm) | .004"/ft TIR over 12" |
| Brass | 3' (914.4mm) to 24' (7315.2mm) | .032" (.8128mm) to 7" (177.8mm) | .004"/ft TIR over 12" |
| Copper | 3' (914.4mm) to 24' (7315.2mm) | .032" (.8128mm) to 7" (177.8mm) | .004"/ft TIR over 12" |
| Bronze | 3' (914.4mm) to 24' (7315.2mm) | .032" (.8128mm) to 7" (177.8mm) | .004"/ft TIR over 12" |
| Specialty Alloys | 3' (914.4mm) to 24' (7315.2mm) | .032" (.8128mm) to 7" (177.8mm) | .004"/ft TIR over 12" |